Omaha, Neb. (December 19, 2022)– CQuence Health Group has been a longtime supporter of the Salvation Army, and this year, team members stepped up like never before.
Employees, if they so chose, could volunteer to the Salvation Army in multiple ways this holiday season. Thanks to the hard work of the CQ Cares committee, the employee-led philanthropic arm of CQuence Health Group, the team was able to raise money and gifts for a number of different initiatives put forward by the nonprofit.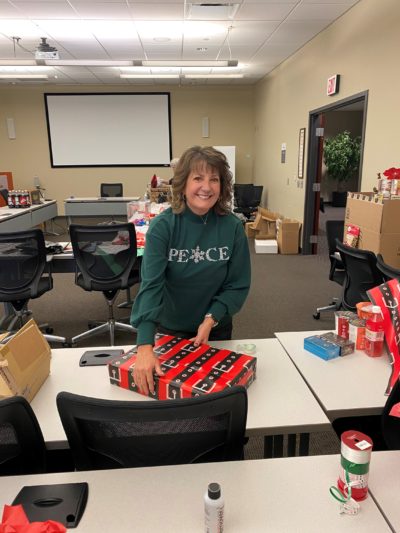 Nothing fills me with more pride than seeing the generosity of our team during the holiday season," said Mike Cassling, CEO of CQuence Health Group and Salvation Army National Advisory Board Chair. "The Salvation Army is an organization that's not just dear to my heart, but to so many of as at CQuence. I thank each and every individual who contributed to holiday giving, because I know the real-life impact their donations of time and money will have on children, seniors and families during what might otherwise be a tough holiday season."
This year, team members who wished to give could choose from a number of different options to do so:
• The Angel Tree: Teams donated money and purchased items that were used to help children experience the joy of Christmas morning.
• Adopt-A-Family: Employees donated funds and purchased and wrapped gifts to give to area seniors to brighten their day during the Christmas season.
• The Tree of Lights Campaign: CQ colleagues donated throughout the month to the Salvation Army's annual Omaha campaign.
• Red Kettle Campaign: A CQ tradition, team members took time out of their days to brave the cold and ring the bell on behalf of the Salvation Army.
In addition, CQuence Health Group provided donation matches up to $25,000 during two special days in December. First was on December 7, during the Salvation Army's Corporate Red Kettle Challenge. And on December 20, each $20 dropped into a red kettle in Omaha, Council Bluffs or Fremont was matched by the company up to another $25,000.
These are just some of the many philanthropic efforts spearheaded by CQ Cares. In 2022, employees have chosen to give to a number of nonprofits, including the Ronald McDonald House, Lungs4Life, Keep Omaha Beautiful, Food Bank for the Heartland and so many more causes that employees are passionate about.
Giving back is a core tenet of CQuence Health Group, with the company actively seeking out organizations and team members who share their interest in improving patient outcomes and bettering communities. With volunteer time off, annual company-wide events and more, CQ seeks those who feel empowered to make a difference in healthcare and the world at large.
About CQuence Health Group
CQuence Health Group is an Omaha, Neb.-based firm focused on investing in innovative, entrepreneurial healthcare IT, product and service startups with the potential to shape the future of healthcare. CQuence was founded in 2011 on the belief of serving the greater healthcare community and advocating for more accessible, affordable and innovative services and solutions that could transform the healthcare system. Today, we help grow startups aligned with our mission through access to shared services, strategic relationships and capital. Our goal is to impact one billion patient lives by 2030. For more information, visit: CQuenceHealth.com.