Omaha, Neb. (Oct. 5, 2021) – CQuence Health Group is pleased to announce Tana Phelps, former marketing manager, has been promoted to Vice President of Marketing. Phelps will be responsible for strategy, customer experience, marketing and communications across CQuence and its business units.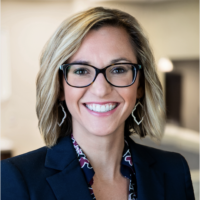 "Tana is a leader in our organization who lives out our brand and our culture in her interactions with internal and external customers every day," said CQuence CEO Mike Cassling. "She's passionate about improving patient outcomes and providing excellent service with a steadfast dedication to the customers and communities we serve."
With over 12 years of experience in the healthcare industry, her expertise is an asset to the company's goals for growth. Since joining CQuence Health Group in 2011, Phelps has been instrumental in supporting new business opportunities and developing marketing plans that align with the company's strategy and goals.
In February, CQuence awarded her with the Bob Cassling Service Excellence Award for her leadership, innovation, and commitment to customers. Phelps graduated from the University of Nebraska-Lincoln with a bachelor's degree in journalism and mass communications.
About CQuence Health Group
CQuence Health Group is an Omaha, Nebr.-based firm focused on investing in innovative, entrepreneurial healthcare IT, product and service startups with the potential to shape the future of healthcare. CQuence was founded in 2011 on the belief of serving the greater healthcare community and advocating for more accessible, affordable and innovative services and solutions that could transform the healthcare system. Today, we help grow startups aligned with our mission through access to shared services, strategic relationships and capital. Our goal is to impact one billion patient lives by 2030. For more information, visit: CQuenceHealth.com.