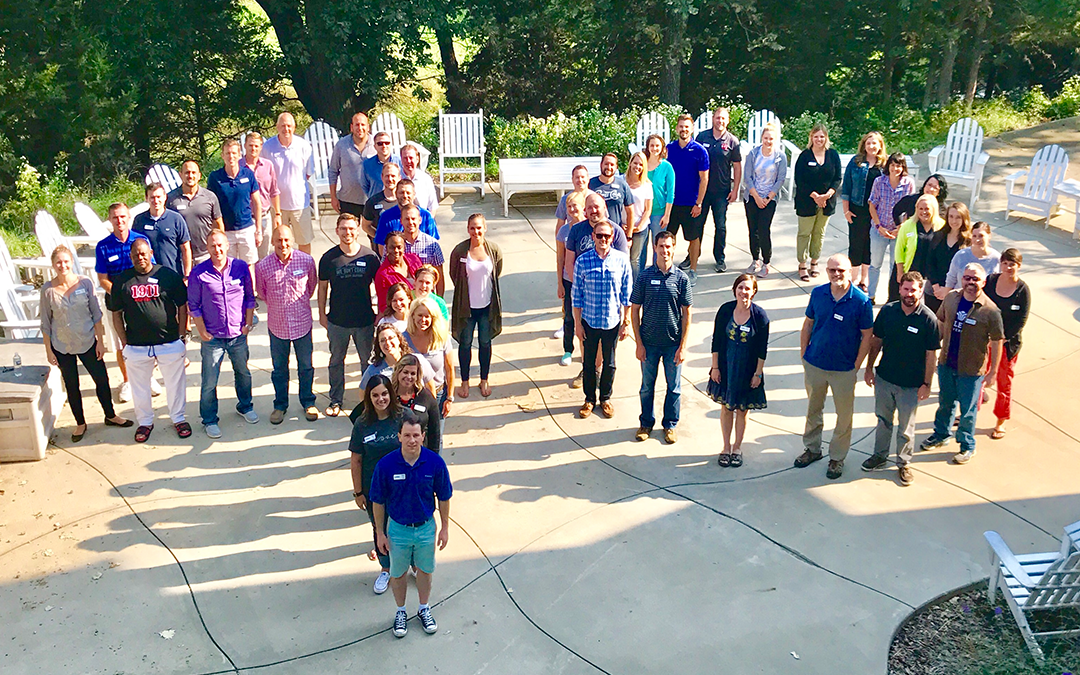 Workplace culture isn't something Bruce Stec takes lightly.
As Vice President of Human Resources at CQuence Health Group, Bruce is passionate about developing a culture that aligns everyone within the organization toward a common cause. At CQuence, that means supporting charitable efforts, engaging in wellness-oriented activities and ensuring the central pillars of the organization are followed by everyone.
"It's refreshing and important to me that as an organization we give back to the community," said Bruce. "You need to drive business, but there's also time to be giving back. You need both to create a healthy environment for employees."
Leading the Charge
Bruce leads by example. He himself has been involved in a variety of charitable organizations, and his leadership skills and philanthropic contributions have been recognized by the Omaha Chamber of Commerce.
As part of the 40th anniversary class of the Chamber's Leadership Omaha group, Bruce joined nearly 50 business leaders from around the area and spent the better part of a year learning about the Omaha community and discovering how leadership principles can be applied to solve those challenges. At the same time, he and his fellow participants got to learn about the great work being done by each other and by different nonprofits within the city.
"We met monthly for seminars to discuss a topic relative to the community," said Bruce. "On issues such as education, transportation and justice. It exposed the group to the different facets of the Omaha area, and encouraged individuals in leadership roles to stay engaged in our community."
This exposure to the real issues confronting Omaha at the local level is something Bruce takes seriously, as evidenced by the map featured prominently within his office. The map depicts Omaha and has hundreds of red and blue dots pinned throughout the area, with the occasional black dot in amongst them.
"This is the gift we received for graduation," said Bruce. "The red dots represent a person in a household living in poverty, and the blue dots represent a household with one person making over $150,000. It shows the city's income spread, and the black dots are where my Leadership Omaha group participants each live."

Nonprofit Work Comes First
Having the map on the wall highlights the spread of inequality and the hard work that lies ahead for the members of Leadership Omaha and the community. Bruce has seen firsthand the difference that a handful of dedicated individuals can make, and he relishes the opportunity to engage in civically responsible initiatives and drum up support for charities of all types.
Bruce graduated from Leadership Omaha Class 40 last month, and he continues to remain invested in making Omaha a better place for everyone who calls it home.
"Nonprofit work has been something that I've always been drawn to. Honestly, I think it's probably more my calling than corporate life."
Bruce started on the Human Resources Association of the Midlands (HRAM) Board, where he eventually served as President. HRAM is an organization dedicated to providing networking and professional development opportunities to human resources professionals. He also spent time on the board of Together Inc., a nonprofit that seeks to eliminate homelessness. It was the director of Together who referred Bruce to an opportunity to join another group, one that Bruce has been supporting ever since: Court Appointed Special Advocates, or CASA, for Douglas County.
"We train volunteers who are assigned by the courts to cases involving children who are in the foster system," said Bruce. "It provides a voice for that child. Our 'CASA', whom we train, makes contact with each child at least monthly and becomes intricate in that child's life. The court recognizes our volunteers as individuals who have a very good position to speak to the case itself. They can offer a more complete voice others can't provide because of the amount of time and energy they put into that specific child's situation."
CASA, like so many other nonprofits, is reliant on the kindness of donors to support their mission. And one of the ways CASA raises money is through the annual CASA 5K Superhero Run.
"We call it the superhero run because individuals who help these children are in fact superheroes, and of course the runners can also come dressed as superheroes and do the run in their costumes for the benefit of the kids. The first year we had a team here at CQuence, we bought capes for everyone that ran. After that we realized the capes were too long and hot, so the next year we simplified and got the superhero socks."
This year, as in years past, CQuence Health Group sponsored the event and paid the registration for any CQuence employee and his/her immediately family members who signed up. In September, CASA celebrates its 20th anniversary with the "Unsung Heroes – 20th Anniversary Celebration" at KANEKO, also sponsored by CQuence. All donations will support CASA for Douglas County's mission of giving children in the foster system a voice in the courts.
A Culture of Giving
Bruce appreciates the support CQuence gives to CASA and to so many organizations in the Omaha community. As head of HR, he makes sure each employee who walks through our doors understands the outsized impact they can make in the community as a part of the CQ team.
"I think this connection to philanthropy is really key to our company's success. It creates a better environment to work in, brings quality candidates through our doors and keeps people engaged in a different way."
Clearly, if it brings exceptional leaders like Bruce into the fold, then something is going very right. Thank you, Bruce, for all the hard work you do on behalf of the community!